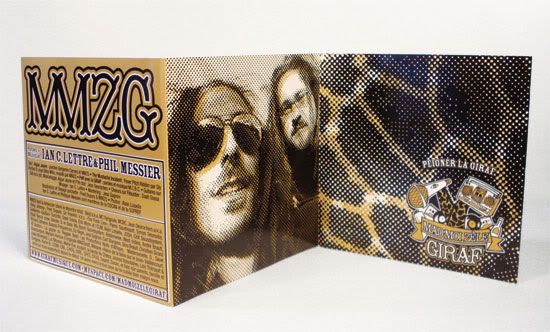 Plus tôt cette année, mes bons chums du band Montréalais
Mad'Moi Zèle Giraf
m'ont demandé de designer une pochette CD pour leur album à venir 'Peigner la Giraf'. J'avais déja designé
les logos du groupe
quelques années auparavant et j'ai décidé de continuer dans cette veine et de conserver la même palette de couleur. Nous étions tous contents avec le résultat final! Y'a jamais trop d'ragga!
Earlier this year, my good friends from the Montreal franco band
Mad'Moi Zèle Giraf
asked me to design the CD artwork for their then upcoming album 'Peigner la Giraf' (literally 'Combing the Giraf'). I had already designed the
logos for the band
a couple of years back and I decide to stick to those colors. We were all happy with the final result! Yeah!