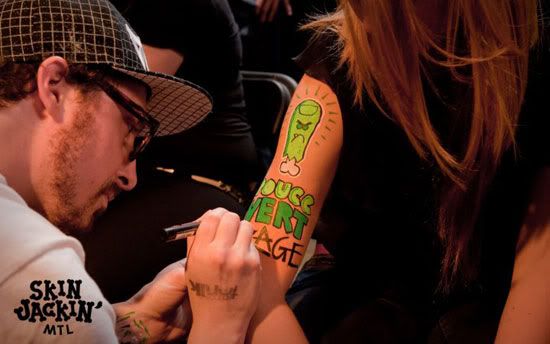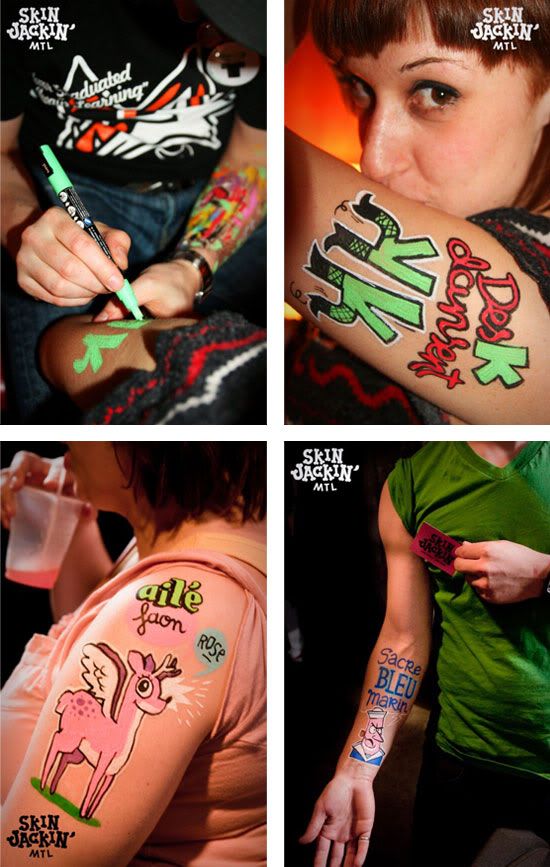 Connaissez-vous le
skinjackin
? En gros, c'est un service de Live Painting Tattoo destiné aux clubs, concerts et évènements en tous genres. Ok, plus concrètement, ce sont des tatouages non-permanents qui sont dessinés sur les gens qui le veulent bien lors de soirées ou d'évènements masterpiece. C'est un concept qui a été élaboré par l'ami
Cookie Kalkair
(le tattoo master) en France l'année dernière, et comme il vient de se poser sur Montréal, il a établi une équipe skinjackin dans la métropole.
Et puis, ils m'ont demandé de me joindre à eux! Comme j'adore ce qu'ils font, j'ai sauté sur l'occasion et j'ai maintenant participé à 2 évènements avec eux:
Merveille et Décadence de Tostaky
(à la Barraque) et
Chromatik de Massivart
(à la SAT). Et il y en aura d'autres!
Passez voir le site de
skinjackin
pour plus de photos et des vidéos!
Do you know what skinjackin is? It's a new Live Painting Tattoo performance service for parties, clubs and concerts. Ok, you want to know more... they're non-permanent tattoos drawn on people in events or masterpiece sessions. The concept was started by Cookie Kalkair (the tattoo master) in France last year, and since he just set home in Montreal, he decided to put up a skinjackin team here too.

And they asked me to join them! Since I love what they do, I jumped on the occasion and I've now taken part in 2 events with them: Tostaky's Merveille et Décadence (at la Barraque) Massivart's Chromatik(at the SAT). And there will be some more!

Check out the skinjackin website for more pictures and videos!